Reminder
Fall 2017
CSP & Capstone
October 1st preferred submission date of initial course materials (a syllabus and AP Course Audit form) for the 2017-18 school year.
Administrators
October 15 is the preferred date by which administrators should renew previously authorized courses that are again offered in the 2017-18 school year to ensure the inclusion of these courses in the initial publication of the AP Course Ledger in November.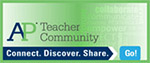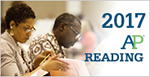 Apply Now
Join more than 15,000 college faculty members and AP teachers at the 2017 AP Reading.
Offering AP Research
AP Research can only be taught as part of the larger AP Capstone™ program. This course may only be offered to students at schools where teachers have completed the required professional development. High schools have already been selected for participation in the 2017-18 academic year. Schools interested in offering AP Capstone in the 2018-19 academic year will need to complete the application process. For information on AP Research visit Advances in AP.
Visit the AP Capstone website to learn more about how to participate in this program.
Course and Exam Description

Describes in detail the AP course and exam. Includes the curriculum framework and a representative sample of exam questions.
Review this resource to establish your understanding of the objectives and expectations of the AP course and exam.
Syllabus Development Guide

Includes the guidelines reviewers use to evaluate syllabi along with three samples of evidence for each requirement. This guide also specifies the level of detail required in the syllabus to receive course authorization.
Curricular/Resource Requirements
Identifies the set of curricular and resource expectations that college faculty nationwide have established for a college-level course.
Example Textbook List
Includes a sample of AP college-level textbooks that meet the content requirements of the AP course.
Four Annotated Sample Syllabi
Provide examples of how the curricular requirements can be demonstrated within the context of actual syllabi.
Review these resources to ensure that you have included the required level of detail in your syllabus to successfully complete the course audit.
Learning List

The College Board has partnered with Learning List to provide independent instructional materials review services for schools and districts for several redesigned and new subjects. More information about the alignment of each textbook is provided on the relevant example textbook lists. The Example Textbook Lists which were reviewed by Learning List are for Biology, Calculus, Chemistry, Computer Science Principles, Physics 1 and 2, Research, Seminar, U.S History and World History.