Reminder
January 31, 2017
Teachers - Deadline for the initial submission of course materials for the 2016-17 school year. Please download Practice Exams from within your Course Audit account.
Administrators - Last day to: Approve Course Audit forms, renew courses, remove teachers not teaching or courses not being offered, and add Online/Distance Learning courses for the current school year. Please record syllabi ID numbers for UC A-G program submission (State of California only).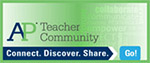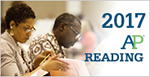 Apply Now
Join more than 15,000 college faculty members and AP teachers at the 2017 AP Reading.
Course and Exam Description

Describes in detail the AP course and exam. Includes the curriculum framework and a representative sample of exam questions.
Review this resource to establish your understanding of the objectives and expectations of the AP course and exam.
Syllabus Development Tutorial
Describes the resources available to support syllabus development and walks through the syllabus development guide requirement by requirement.
Curricular/Resource Requirements
Identifies the set of curricular and resource expectations that college faculty nationwide have established for a college-level course.
Example Textbook List
Includes a sample of AP college-level textbooks that meet the content requirements of the AP course.
Syllabus Development Guide

Includes the guidelines reviewers use to evaluate syllabi along with three samples of evidence for each requirement. This guide also specifies the level of detail required in the syllabus to receive course authorization.
Four Annotated Sample Syllabi
Provide examples of how the curricular requirements can be demonstrated within the context of actual syllabi.
Review these resources to ensure that you have included the required level of detail in your syllabus to successfully complete the course audit.
Use this checklist to ensure that your syllabus includes all required elements before submitting for review.
Learning List

The College Board has partnered with Learning List to provide independent instructional materials review services for schools and districts for several redesigned and new subjects. More information about the alignment of each textbook is provided on the relevant example textbook lists. The new Example Textbook Lists which were reviewed by Learning List are for Biology, Calculus, Chemistry, Computer Science Principles, Physics 1 and 2, and World History.