Reminder
January 31, 2017
Teachers - Deadline for the initial submission of course materials for the 2016-17 school year. Please download Practice Exams from within your Course Audit account.
Administrators - Last day to: Approve Course Audit forms, renew courses, remove teachers not teaching or courses not being offered, and add Online/Distance Learning courses for the current school year. Please record syllabi ID numbers for UC A-G program submission (State of California only).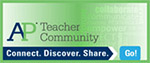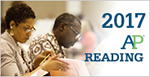 Apply Now
Join more than 15,000 college faculty members and AP teachers at the 2017 AP Reading.
The AP® Program unequivocally supports the principle that each individual school must develop its own curriculum for courses labeled "AP." Rather than mandating any one curriculum for AP courses, the AP Course Audit instead provides each AP teacher with
a set of expectations that college and secondary school faculty nationwide have established for college-level courses. More
AP teachers are encouraged to develop or maintain their own curriculum that either includes or exceeds each of these expectations; such courses will be authorized to use the "AP" designation. Credit for the success of AP courses belongs to the individual schools and teachers that create powerful, locally designed AP curricula.
The AP Calculus AB course should be designed by your school to provide students with a learning experience equivalent to that of a college course in single-variable calculus. Your Calculus AB course needs to develop students' understanding of the concepts of calculus and provide experience with its methods and applications. The course should emphasize a multirepresentational approach to calculus, with concepts, results and problems being expressed graphically, numerically, analytically and verbally. In addition, the connections among these representations should be highlighted.
Before studying calculus, students should complete four years of secondary mathematics designed for college-bound students; in these courses, they should study algebra, geometry, trigonometry, analytic geometry and elementary functions. These functions include those that are linear, polynomial, rational, exponential, logarithmic, trigonometric, inverse trigonometric and piecewise defined. In particular, before studying calculus, students must be familiar with the properties of functions, the algebra of functions and the graphs of functions. Students must also understand the language of functions (domain and range, odd and even, periodic, symmetry, zeros, intercepts and so on) and know the values of the trigonometric functions of the numbers 0, π/6, π/4, π/3, π/2 and their multiples.
All students who are willing and academically prepared to accept the challenge of a rigorous academic curriculum should be considered for admission to AP courses. The College Board encourages the elimination of barriers that restrict access to AP courses for students from ethnic, racial and socioeconomic groups that have been traditionally underrepresented in the AP Program. Schools should make every effort to ensure that their AP classes reflect the diversity of their student population.
High schools offering this exam must provide the exam administration equipment described in the AP Coordinator's Manual.
Updated AP Calculus AB curricular requirements are available for the 2016-17 school year. AP Calculus AB teachers with previously approved syllabi are not required to revise and resubmit their syllabi. Beginning in March 2016, teachers have two options to confirm their awareness and understanding of the updated curricular requirements:
Option 1: Complete the AP Course Audit form and transfer a previously approved syllabus to the current school year. For detailed instructions, click here.
Option 2: Complete the AP Course Audit form and submit a new or revised syllabus. Teachers can either create their own syllabus that reflects the curricular requirements or adopt one of the sample syllabi available on the AP Course Audit website.
Instructions for the AP Course Audit Form
Log in to your AP Course Audit account.
Click the Add Course button and select AP Calculus AB.
Click the Complete Course Audit Form button. Complete and submit the AP Course Audit Form. Your school administrator will need to approve the Course Audit form for your course to be authorized.
Click Submit Syllabus.
Click Transfer Approved Syllabus.
Select the approved syllabus that you would like to use for the 2016-17 school year and submit.
Course and Exam Description

Describes in detail the AP course and exam. Includes the curriculum framework and a representative sample of exam questions.
Review this resource to establish your understanding of the objectives and expectations of the AP course and exam.
Curricular/Resource Requirements
Identifies the set of curricular and resource expectations that college faculty nationwide have established for a college-level course.
Example Textbook List
Includes a sample of AP college-level textbooks that meet the content requirements of the AP course.
Syllabus Development Guide

Includes the guidelines reviewers use to evaluate syllabi along with three samples of evidence for each requirement. This guide also specifies the level of detail required in the syllabus to receive course authorization.
Four Annotated Sample Syllabi
Provide examples of how the curricular requirements can be demonstrated within the context of actual syllabi.
Review these resources to ensure that you have included the required level of detail in your syllabus to successfully complete the course audit.
Use this checklist to ensure that your syllabus includes all required elements before submitting for review.
Learning List

The College Board has partnered with Learning List to provide independent instructional materials review services for schools and districts for several redesigned and new subjects. More information about the alignment of each textbook is provided on the relevant example textbook lists. The new Example Textbook Lists which were reviewed by Learning List are for Biology, Calculus, Chemistry, Computer Science Principles, Physics 1 and 2, and World History.